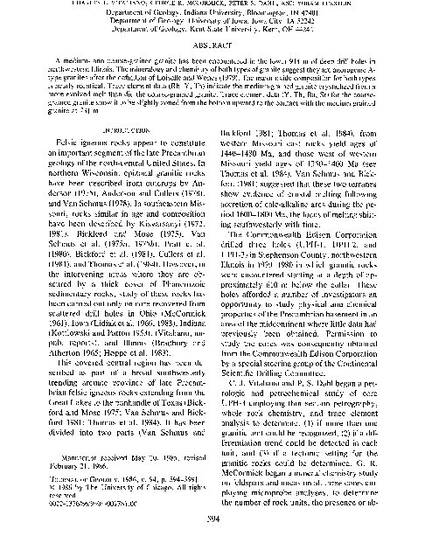 Article
Granitic Rocks from 3 Deep Drill-Holes, Illinois
Journal of Geology
Publication Date
1-1-1986
Abstract
A medium- and coarse-grained granite has been encountered in the lower 914 m of deep drill-holes in northwestern Illinois. The mineralogy and chemistry of both types of granite suggest they are anorogenic A-type granites after the definition of Loiselle and Wones (1979). The major oxide composition for both types is nearly identical. Trace element data (Rb, Y, Th) indicate the medium-grained granite crystallized from a more evolved melt than did the coarse-grained granite. Trace element data (Y, Th, Ba, Sr) for the coarsegrained granite show it to be slightly zoned from the bottom upward to the contact with the medium-grained granite at 731 m.
Citation Information
Charles J Vitaliano, George R McCormick, Peter Dahl and Yoram Eckstein. "Granitic Rocks from 3 Deep Drill-Holes, Illinois"
Journal of Geology
Vol. 94 Iss. 4 (1986) p. 594 - 599
Available at: http://works.bepress.com/peter_dahl/5/