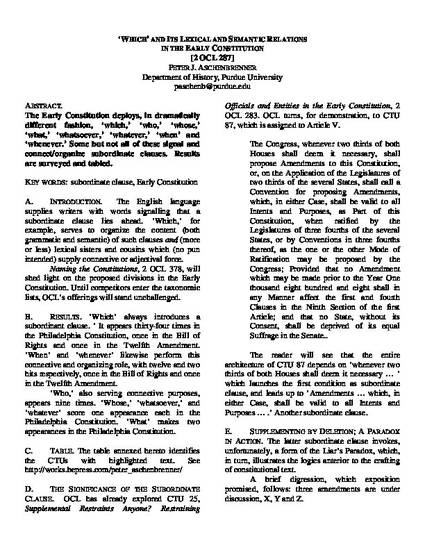 Article
'Which' and Its Lexical and Semantic Relations in the Early Constitution
2 Our Constitutional Logic 287 (2012)
Abstract
The Early Constitution deploys, in dramatically different fashion, 'which,' 'who,' 'whose,' 'what,' 'whatsoever,' 'whatever,' 'when' and 'whenever.' Some but not all of these signal and connect/organize subordinate clauses. Results are surveyed and tabled.
Keywords
subordinate clause,
Early Constitution
Publication Date
June, 2012
Citation Information
Peter J. Aschenbrenner. "'Which' and Its Lexical and Semantic Relations in the Early Constitution"
2 Our Constitutional Logic 287
(2012)
Available at: http://works.bepress.com/peter_aschenbrenner/84/