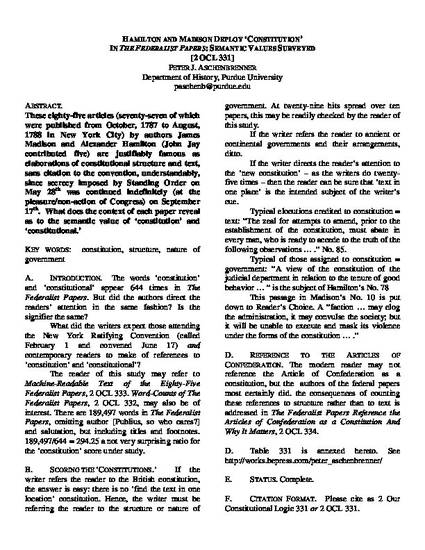 Article
Hamilton and Madison Deploy 'Constitution' In The Federalist Papers: Semantic Values Surveyed
2 Our Constitutional Logic 331 (2012)
Abstract
The eighty-five Federal Papers (authors James Madison and Alexander Hamilton; John Jay contributed five) are justifiably famous as elaborations of constitutional structure and text, sans citation to the convention, understandably, since secrecy imposed by Standing Order on May 28th was continued indefinitely (at the pleasure/non-action of Congress) on September 17th. Counts on semantic value/s of 'constitution' and 'constitutional' are surveyed.
Keywords
constitution,
structure,
nature of government.
Publication Date
June, 2012
Citation Information
Peter J. Aschenbrenner. "Hamilton and Madison Deploy 'Constitution' In The Federalist Papers: Semantic Values Surveyed"
2 Our Constitutional Logic 331
(2012)
Available at: http://works.bepress.com/peter_aschenbrenner/81/