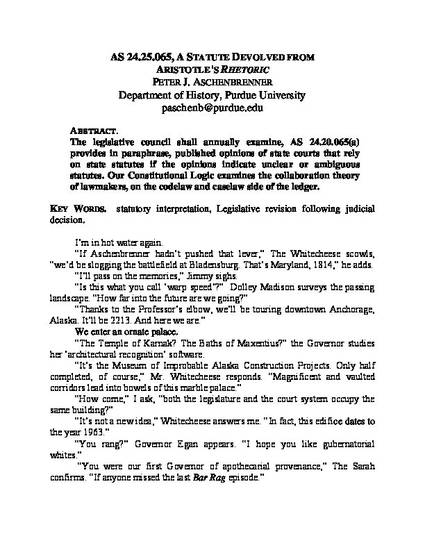 Article
AS 24.25.065, A Statute Devolved from Aristotle's Rhetoric
1 Our Constitutional Logic 135 (2014)
Abstract
The legislative council shall annually examine, AS 24.20.065(a) provides in paraphrase, published opinions of state courts that rely on state statutes if the opinions indicate unclear or ambiguous statutes. Our Constitutional Logic examines the collaboration theory of lawmakers, on the codelaw and caselaw side of the ledger.
Keywords
statutory interpretation,
Legislative revision following judicial decision.
Publication Date
November, 2014
Citation Information
Peter J. Aschenbrenner. "AS 24.25.065, A Statute Devolved from Aristotle's Rhetoric"
1 Our Constitutional Logic 135
(2014)
Available at: http://works.bepress.com/peter_aschenbrenner/276/