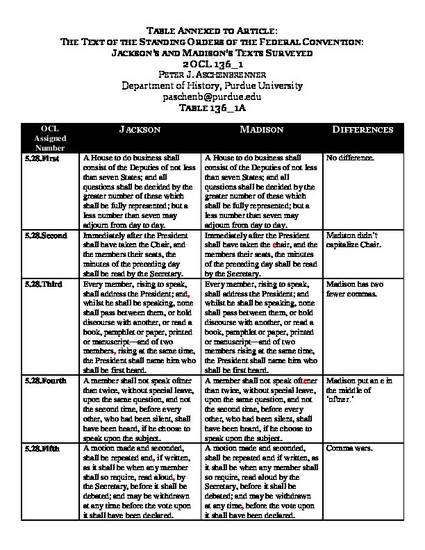 Article
Table Annexed to Article: The Text of the Standing Orders of the Federal Convention: Jackson's and Madison's Texts Surveyed
2 Our Constitutional Logic 136_1 (2015)
Abstract
Drawing on Farrand's Records of the Federal Convention of 1787, Vol. 1, Our Constitutional Logic has reconciled the differences between the text of the standing Orders as presented in the text of William Jackson, the convention's secretary, and James Madison, the convention's semi-official reporter, both as edited by Max Farrand. This text will appear in Basic Texts in the Founding of Parliamentary Science Originating from the United Kingdom and United States (in MR Text Format), 2 OCL 136_5; in turn, OCL is producing the first concordance of these texts in Founding the Science of Parliamentary Procedure, 1785-1789: Basic Texts in Concordance Style Format, 2 OCL 136_4.
Keywords
federal convention,
Standing Orders,
Jackson,
Madison
Publication Date
August, 2015
Citation Information
Peter J. Aschenbrenner. "Table Annexed to Article: The Text of the Standing Orders of the Federal Convention: Jackson's and Madison's Texts Surveyed"
2 Our Constitutional Logic 136_1
(2015)
Available at: http://works.bepress.com/peter_aschenbrenner/275/