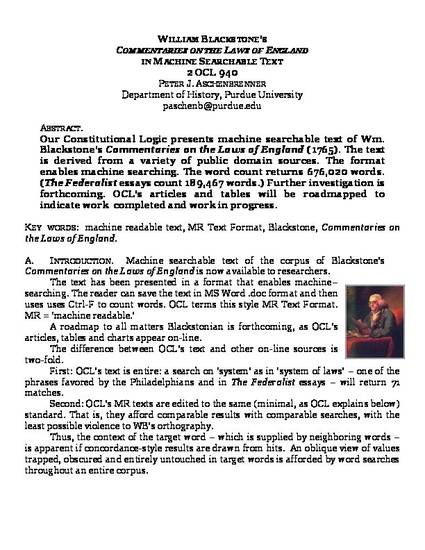 Article
William Blackstone's Commentaries on the Laws of England In Machine Searchable Text
2 Our Constitutional Logic 940 (2014)
Abstract
Our Constitutional Logic presents, in machine readable text (MR text format) Wm. Blackstone's Commentaries on the Laws of England (1765). The text is derived from a variety of public domain sources. The format enables machine searching. The word count returns 658,058 words. (The Federalist essays count 189,467 words.) The text excludes page numbering – there are at least two competitors and no clear winner – but includes all of the original footnotes and the four introductory sections. There is no mystery in WB's science. In any event WB's '_science' hits (at 41) yield a log score of -4.2172 which is modestly outdone by The Federalist authors whose 15 '_science' hits score them a higher log score at -4.1014. Readers are fairly warned the science of law will be making a return appearance.
Keywords
machine readable text,
MR Text Format,
Blackstone,
Commentaries on the Law of England.
Publication Date
April, 2014
Citation Information
Peter J. Aschenbrenner. "William Blackstone's Commentaries on the Laws of England In Machine Searchable Text"
2 Our Constitutional Logic 940
(2014)
Available at: http://works.bepress.com/peter_aschenbrenner/220/