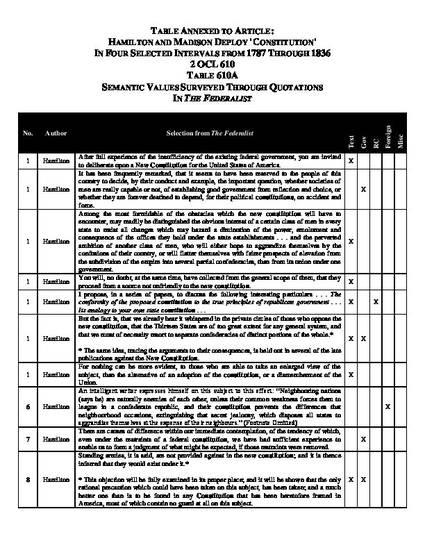 Article
Table Annexed to Article: Hamilton and Madison Deploy 'Constitution' In Four Intervals from 1787 through 1836: Semantic Values Surveyed Through Quotations, 2 OCL 610
2 Our Constitutional Logic 610 (2014)
Abstract
The semantic values of 'constitution' and 'constitutional' are spread through a five way-grid beginning with The Federalist essays of Alexander Hamilton and James Madison. In the second tranche, their writings and speeches – now as opponents – in the bank bill debate (1791) are examined and contrasted with their debate over Washington's Neutrality Proclamation (1793); in the third tranche, Hamilton's public letters (from his retirement as Secretary of the Treasury to his death in 1804) are surveyed; the fourth consists of Madison's works included in Farrand's volume 3 (Records of the Federal Convention).
Keywords
quantum values,
'nature of government'
Publication Date
October, 2014
Citation Information
Peter J. Aschenbrenner. "Table Annexed to Article: Hamilton and Madison Deploy 'Constitution' In Four Intervals from 1787 through 1836: Semantic Values Surveyed Through Quotations, 2 OCL 610"
2 Our Constitutional Logic 610
(2014)
Available at: http://works.bepress.com/peter_aschenbrenner/197/