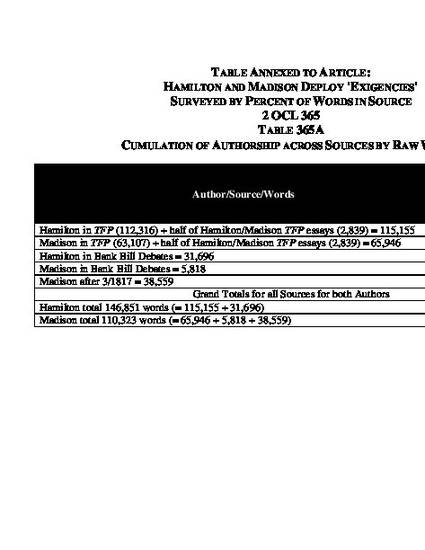 Article
Table Annexed to Article: Hamilton and Madison Deploy 'Exigencies' In Works Dated to 1787/88, 1790/91 and 1817-1836 Surveyed by Percent of Words in Source
2 Our Constitutional Logic 365 (2013)
Abstract
In this third of three articles, frequencies by Madison and Hamilton for 'exigencies' are cumulated. Hits surveyed in the three disputed essays are divided equally between Madison and Hamilton. Frequency (by percent) is multiplied by 1000 for ready comparison. The Word vs. the Need contest for primacy at the supra-constitutional level; JM and AH are scored accordingly.
Keywords
exigencies,
'nature of government' reasoning,
The Word,
The Need
Publication Date
March, 2013
Citation Information
Peter J. Aschenbrenner. "Table Annexed to Article: Hamilton and Madison Deploy 'Exigencies' In Works Dated to 1787/88, 1790/91 and 1817-1836 Surveyed by Percent of Words in Source"
2 Our Constitutional Logic 365
(2013)
Available at: http://works.bepress.com/peter_aschenbrenner/156/