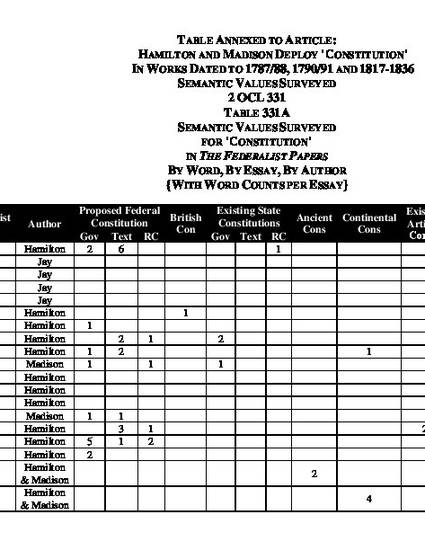 Article
Table Annexed to Article: Hamilton and Madison Deploy 'Constitution' In Works Dated to 1787/88, 1790/91 and 1817-1836 Semantic Values Surveyed and Cumulated
2 Constitutional Logic 331 (2013)
Abstract
In the second of three articles, the works of Madison and Hamilton, from The Federalist Papers through the bank bill debate, and continuing with Madison's post-1817 works are surveyed. Through 151 works (essays, speeches and letters) over 49 years, word counts are supplied for each value in the eleven-way grid for values of 'constitution,' highlighting the divergent 'constitution' = text and 'constitution' = government. The 946 uses of 'constitution' in 49 years in these 151 works appear in 265,859 words.
Keywords
constitution,
quantum values,
'nature of government' reasoning
Publication Date
February, 2013
Citation Information
Peter J. Aschenbrenner. "Table Annexed to Article: Hamilton and Madison Deploy 'Constitution' In Works Dated to 1787/88, 1790/91 and 1817-1836 Semantic Values Surveyed and Cumulated"
2 Constitutional Logic 331
(2013)
Available at: http://works.bepress.com/peter_aschenbrenner/138/