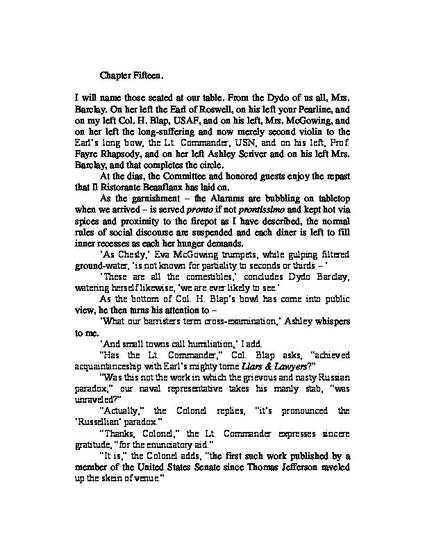 Article
The Imperial Semicolon Holds Court at Il Ristorante Beauflanx, Selections from Story Conquers
5 Our Constitutional Logic 100 (2012)
Abstract
Alaska Territory, July, 1947, Il Ristorante Beauflanx: At a dinner party the assembly turns its attention to the Imperial semicolon, citation to works published before the reign of Otto III, and the competing virtues of the double (") vs. the single (') quotation mark. Dydo Barclay presides. Orthographically correct footwear does not make its appearance, however.
Keywords
Alaska Territory,
Imperial Semicolon,
Otto the Third
Publication Date
August, 2012
Citation Information
Peter J. Aschenbrenner. "The Imperial Semicolon Holds Court at Il Ristorante Beauflanx, Selections from Story Conquers"
5 Our Constitutional Logic 100
(2012)
Available at: http://works.bepress.com/peter_aschenbrenner/127/