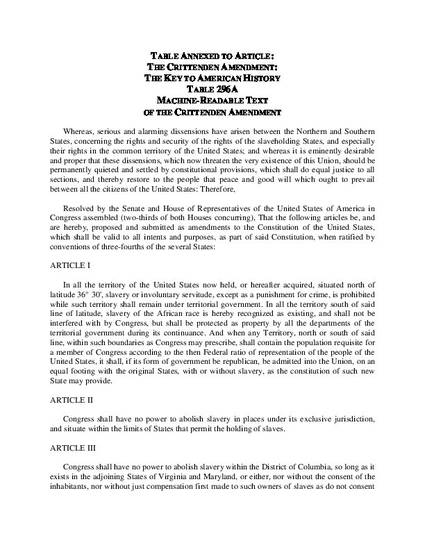 Article
Table Annexed to Article: The Crittenden Amendment: The Key to American History
2 Our Constitutional Logic 296 (2012)
Abstract
"Whereas, serious and alarming dissensions have arisen between the Northern and Southern States," the Crittenden amendment (1860-1861) proposed "constitutional provisions, which shall do equal justice to all sections, and thereby restore to the people that peace and good will which ought to prevail between all the citizens of the United States." So what was wrong with the 5,224 words of the federal constitution that these 1,348 words were going to fix?
Keywords
fugitives from slavery,
fugitives from reason
Publication Date
August, 2012
Citation Information
Peter J. Aschenbrenner. "Table Annexed to Article: The Crittenden Amendment: The Key to American History"
2 Our Constitutional Logic 296
(2012)
Available at: http://works.bepress.com/peter_aschenbrenner/124/