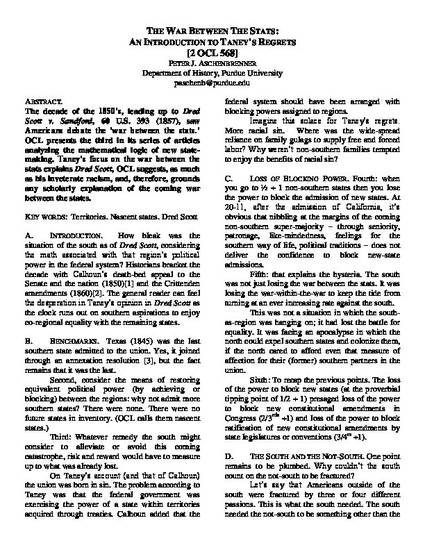 Article
The War Between The Stats: An Introduction to Taney's Regrets
2 Our Constitutional Logic 568 (2012)
Abstract
The decade of the 1850's, leading up to Dred Scott v. Sandford, 60 U.S. 393 (1857), saw Americans debate the 'war between the stats.' OCL presents the third in its series of articles analyzing the mathematical logic of new state-making. Taney's focus on the war between the stats explains Dred Scott, OCL suggests, as much as his inveterate racism, and, therefore, grounds any scholarly explanation of the coming war between the states.
Keywords
Territories. Nascent states. Dred Scott
Publication Date
August, 2012
Citation Information
Peter J. Aschenbrenner. "The War Between The Stats: An Introduction to Taney's Regrets"
2 Our Constitutional Logic 568
(2012)
Available at: http://works.bepress.com/peter_aschenbrenner/114/