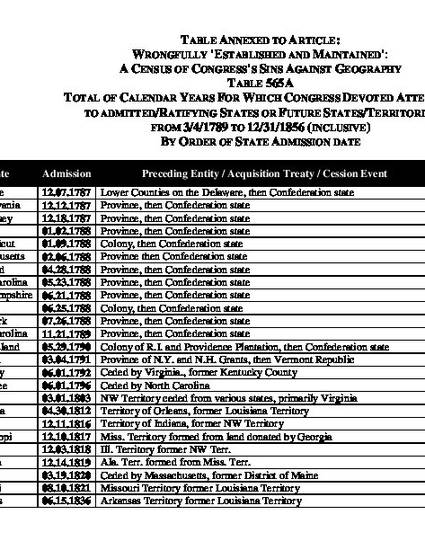 Article
Table Annexed to Article: Wrongfully 'Established and Maintained': A Census of Congress's Sins Against Geography
2 Our Constitutional Logic 565 (2012)
Abstract
Taney, C.J. opined, for a majority of the Supreme Court, that Congress lacked the power to establish and maintain colonies as a system by which nascent states were groomed by Congress to join an expanding union. Dred Scott v. Sandford, 60 U.S. 393 (1857). Did Congress wrongfully acquire half a continent? And what was the state of the union as of the Dred Scott decision?
Keywords
Territories. States. Dred Scott
Publication Date
September, 2012
Citation Information
Peter J. Aschenbrenner. "Table Annexed to Article: Wrongfully 'Established and Maintained': A Census of Congress's Sins Against Geography"
2 Our Constitutional Logic 565
(2012)
Available at: http://works.bepress.com/peter_aschenbrenner/113/