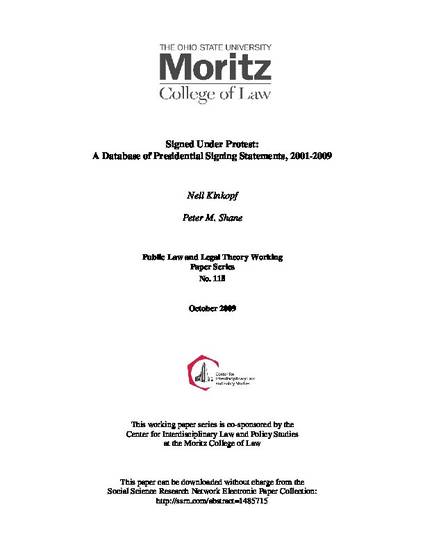 Article
Signed Under Protest A Database of Presidential Signing Statements
Public Law and Legal Theory Working Paper Series (2009)
Abstract
This paper updates the authors' 2007 compilation of Bush 43 Administration signing statements that object on constitutional grounds to one or more provisions of the laws President Bush was signing. It offers what is a complete compilation for both the first and second Bush 43 Administrations. In total, President Bush objected to 1070 provisions embodied in 120 statutes. Objections to a number of these provisions were stated on multiple grounds. If one counts as an objection each precise ground on which the President registered concern about a provision of law, then the 1070 or so provisions at issue elicited 1496 objections. To help in the analysis of the President's objections, the authors classify the objections according to 23 general bases upon which they were stated. Although these are plainly overlapping, especially with regard to objections based on the unitary executive, Article II, and the separation of powers, the authors have tried to reflect as many distinct grounds for objection as appear in the signing statements themselves.
Keywords
Presidential Signing Statements,
Bill,
Law,
Obama,
Bush,
Clinton,
President,
Congress
Citation Information
Peter M. Shane. "Signed Under Protest A Database of Presidential Signing Statements"
Public Law and Legal Theory Working Paper Series
(2009)
Available at: http://works.bepress.com/peter-shane/20/