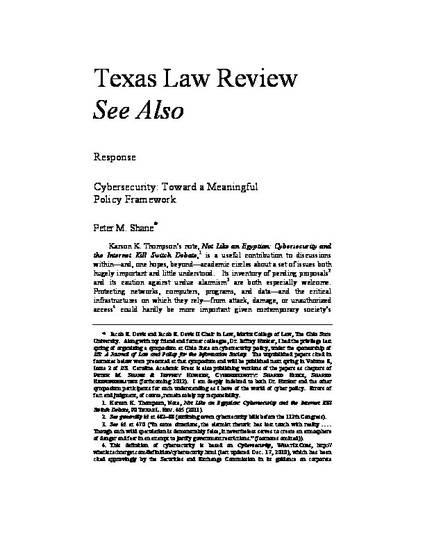 Article
Cybersecurity - Toward a Meaningful Policy Framework
Texas Law Review (2012)
Abstract
This critique of Karson K. Thompson's note, "Not Like an Egyptian: Cybersecurity and the Internet Kill Switch Debate," argues that the U.S. lacks a framework of laws and regulations, "smart" or otherwise, that adequately incentivizes the parties with the greatest capacity to improve our cyber security to do so. It attributes the poor state of U.S. cyber policy to the "bewildering array of overlapping responsibilities" scattered among government offices and departments; the difficult imperative of sharing responsibility among military and civilian authorities; the fact that most of the networks (and the dependent critical infrastructures) that need protecting are in private hands; and the lack of public understanding of the kinds of regulation that are necessary or appropriate. The essay argues that meaningful progress towards an adequate legal framework depends on a broad national debate aimed at defining the public good with regard to cybersecurity, and the inevitable trade-offs among security, privacy, productivity, economic growth, organizational flexibility, military effectiveness, government transparency, and accountability that must be confronted in making sensible cybersecurity policy.
Keywords
cybersecurity,
national security
Citation Information
Peter M. Shane. "Cybersecurity - Toward a Meaningful Policy Framework"
Texas Law Review
(2012)
Available at: http://works.bepress.com/peter-shane/11/