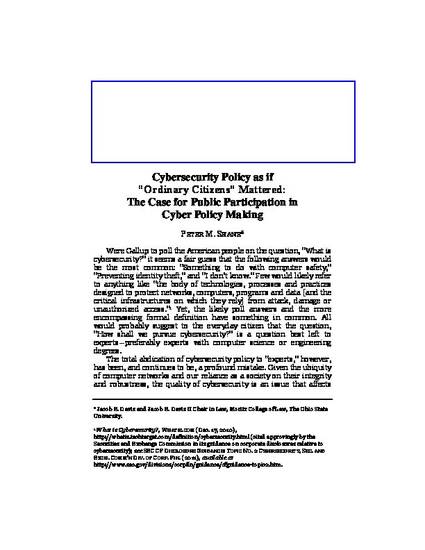 Article
Cybersecurity Policy as If Ordinary Citizens Mattered
I/S: A JOURNAL OF LAW AND POLICY FOR THE INFORMATION SOCIETY (2012)
Abstract
Given the ubiquity of computer networks and our reliance as a society on their integrity and robustness, the quality of cybersecurity is an issue that affects everyone. Yet, cybersecurity policy making has remained almost entirely within the purview of lobbyists and technical experts. This article argues for both the plausibility and normative imperative of greater public participation in cyber policy making.
Keywords
Keywords: cyberlaw,
cyber,
national security,
democracy,
public participation
Citation Information
Peter M. Shane. "Cybersecurity Policy as If Ordinary Citizens Mattered"
I/S: A JOURNAL OF LAW AND POLICY FOR THE INFORMATION SOCIETY
(2012)
Available at: http://works.bepress.com/peter-shane/10/