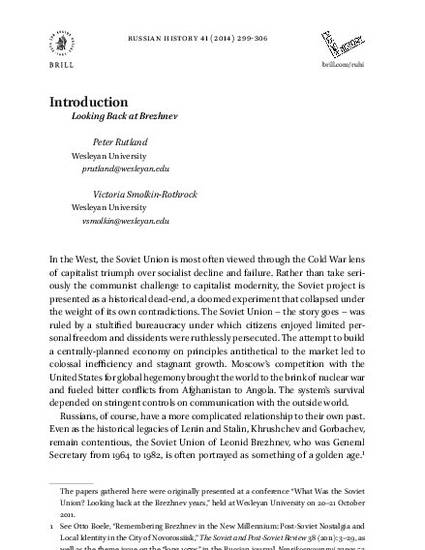 Article
Looking back at Brezhnev
Russian History (2014)
Abstract
This is the introduction to a special issue of Russian history evaluating the record of the Brezhnev era 25 years after the collapse of the Soviet Union. While in the West Brezhnev's Soviet Union is seen as a collosal failure, many Russians look back on the period with nostalgia. And the society was much more dynamic than the label "stagnation" implies. The seeds of Russia's explosive changes in the 1990s were planted during the Brezhnev era.
Citation Information
Peter Rutland and Victoria Smolkin-Rothrock. "Looking back at Brezhnev"
Russian History
Vol. 41 Iss. 3 (2014) p. 299 - 306
Available at: http://works.bepress.com/peter-rutland/10/