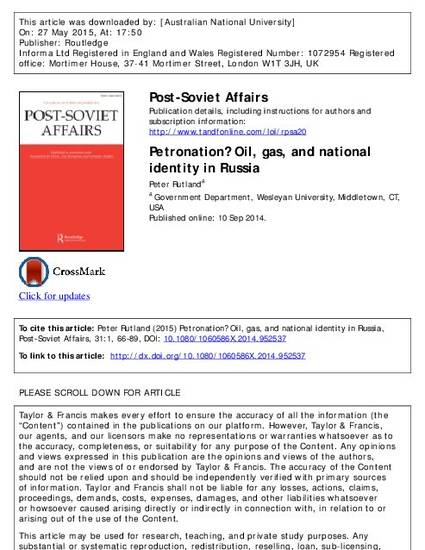 Article
Petronation? Oil, gas, and national identity in Russia
Post Soviet Affairs (2015)
Abstract
Based on survey research, elite interviews, and an analysis of media treatment, this article explores the place of oil and gas in Russia's national narrative and self-identity. Objectively, Russia's economic development, political stability, and ability to project power abroad rest on its oil and gas resources. Subjectively, however, Russians are somewhat reluctant to accept that oil and gas dependency is part of their national identity. This is particularly true of the elites who play a crucial role in defining the dominant national narrative. Ordinary Russians generally have quite positive attitudes about the role of Gazprom and Russia's emergence as an "energy superpower" – while at the same time being wary of becoming a "raw materials appendage" of the outside world. One of the unexpected findings to emerge from the survey data is the strong regional differences on the question of whether Russia should be proud of its reliance on energy. Gazprom is popular in the Central Federal District, but less so as one moves east. The article concludes with an analysis of the factors constraining the role of energy in Russia's national narrative: the prominent history of military victories and territorial expansion; a strong commitment to modernization through science and industry; and concerns over corruption, environmental degradation, and foreign exploitation.
Keywords
Russia,
oil and gas,
petrostate,
nationalism,
national identity,
energy superpower
Publication Date
Spring 2015
Citation Information
Peter Rutland. "Petronation? Oil, gas, and national identity in Russia"
Post Soviet Affairs
Vol. 31 Iss. 1 (2015) p. 66 - 89
Available at: http://works.bepress.com/peter-rutland/1/