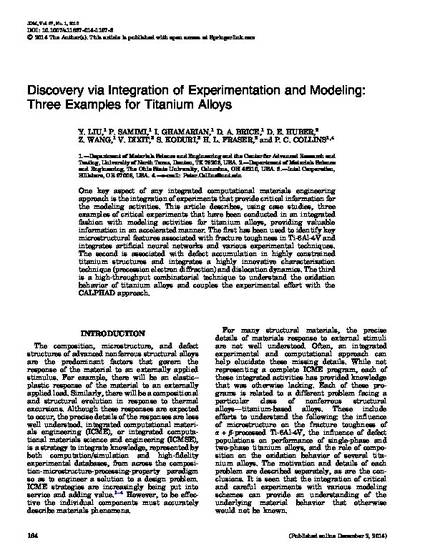 Article
Discovery via Integration of Experimentation and Modeling: Three Examples for Titanium Alloys
The Journal of The Minerals, Metals & Materials Society (2015)
Abstract
One key aspect of any integrated computational materials engineering approach is the integration of experiments that provide critical information for the modeling activities. This article describes, using case studies, three examples of critical experiments that have been conducted in an integrated fashion with modeling activities for titanium alloys, providing valuable information in an accelerated manner. The first has been used to identify key microstructural features associated with fracture toughness in Ti-6Al-4V and integrates artificial neural networks and various experimental techniques. The second is associated with defect accumulation in highly constrained titanium structures and integrates a highly innovative characterization technique (precession electron diffraction) and dislocation dynamics. The third is a high-throughput combinatorial technique to understand the oxidation behavior of titanium alloys and couples the experimental effort with the CALPHAD approach.
DOI
10.1007/s11837-014-1197-3
Citation Information
Y. Liu, P. Sammi, I. Ghamarian, D. A. Brice, et al.. "Discovery via Integration of Experimentation and Modeling: Three Examples for Titanium Alloys"
The Journal of The Minerals, Metals & Materials Society
Vol. 67 Iss. 1 (2015) p. 164 - 178
Available at: http://works.bepress.com/peter-collins/9/