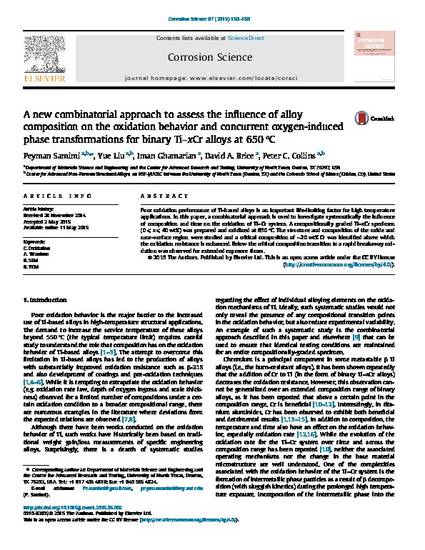 Article
A new combinatorial approach to assess the Influence of Alloy Composition on the Oxidation Behavior and Concurrent Oxygen-induced Phase Transformations for Binary Ti-xCr Alloys at 650°C
Corrosion Science (2015)
Abstract
Poor oxidation performance of Ti-based alloys is an important life-limiting factor for high temperature applications. In this paper, a combinatorial approach is used to investigate systematically the influence of composition and time on the oxidation of Ti–Cr system. A compositionally graded Ti–
x
Cr specimen (0 ⩽ 
x
⩽
 40 wt%) was prepared and oxidized at 650 °C. The structure and composition of the oxide and near-surface region were studied and a critical composition of ∼20 wt% Cr was identified above which the oxidation resistance is enhanced. Below the critical composition transition to a rapid breakaway oxidation was observed for extended exposure times.
Keywords
C. Oxidation,
A. Titanium,
B. SEM,
B. TEM
DOI
10.1016/j.corsci.2015.05.002
Citation Information
Peyman Samimi, Yue Liu, Inman Ghamarian, David A. Brice, et al.. "A new combinatorial approach to assess the Influence of Alloy Composition on the Oxidation Behavior and Concurrent Oxygen-induced Phase Transformations for Binary Ti-xCr Alloys at 650°C"
Corrosion Science
Vol. 97 (2015) p. 150 - 160
Available at: http://works.bepress.com/peter-collins/10/
Creative Commons license
This work is licensed under a Creative Commons CC_BY-NC-ND International License.