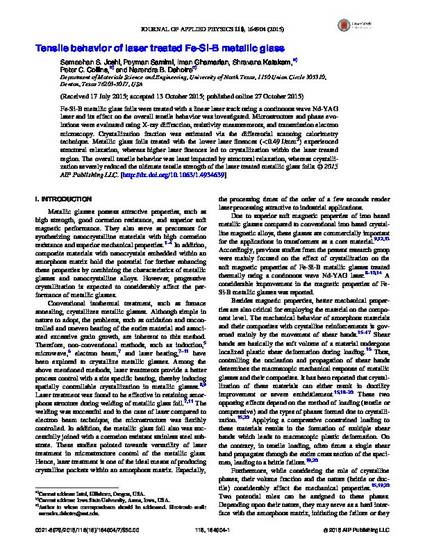 Article
Tensile behavior of laser treated Fe-Si-B metallic glass
Journal of Applied Physics (2015)
Abstract
Fe-Si-B metallic glass foils were treated with a linear laser track using a continuous wave Nd-YAG laser and its effect on the overall tensile behavior was investigated. Microstructure and phase evolutions were evaluated using X-ray diffraction, resistivity measurements, and transmission electron microscopy.Crystallization fraction was estimated via the differential scanning calorimetry technique. Metallic glass foils treated with the lower laser fluences (<0.49 J/mm
2
) experienced structural relaxation, whereas higher laser fluences led to crystallization within the laser treated region. The overall tensile behavior was least impacted by structural relaxation, whereas crystallization severely reduced the ultimate tensile strength of the laser treated metallic glass foils.
Citation Information
Sameehan S. Joshi, Peyman Samimi, Iman Ghamarian, Shravana Katakam, et al.. "Tensile behavior of laser treated Fe-Si-B metallic glass"
Journal of Applied Physics
Vol. 118 Iss. 16 (2015) p. 164904
Available at: http://works.bepress.com/peter-collins/1/