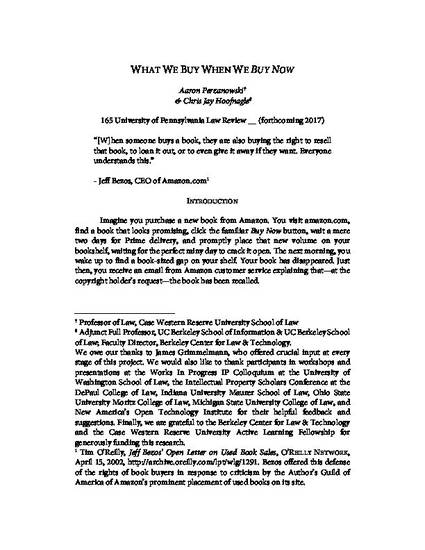 Article
What We Buy When We "Buy Now"
University of Pennsylvania Law Review (2017)
Abstract
Retailers such as Apple and Amazon market digital media to consumers using the familiar language of product ownership, including phrases like "buy now," "own," and "purchase." Consumers may understandably associate such language with strong personal property rights. But the license agreements and terms of use associated with these transactions tell a different story. They explain that ebooks, mp3 albums, digital movies, games, and software are not sold, but merely licensed. The terms limit consumers' ability to resell, lend, transfer, and even retain possession of the digital media they acquire. Moreover, unlike physical media products, access to digital media is contingent — it depends on shifting business models, the success and failure of platforms, and often on the maintenance and availability of DRM authentication systems years after the consumer clicked "buy now."
This article presents the results of the first-ever empirical study of consumers' perceptions of the marketing language used by digital media retailers. We created a fictitious Internet retail site, surveyed a nationally representative sample of nearly 1300 online consumers, and analyzed their perceptions through the lens of false advertising and unfair and deceptive trade practices. The resulting data reveal a number of insights about how consumers understand and misunderstand digital transactions. A surprisingly high percentage of consumers believe that when they "buy now," they acquire the same sorts of rights to use and transfer digital media goods that they enjoy for physical goods. The survey also strongly suggests that these rights matter to consumers. Consumers are willing to pay more for them and are more likely to acquire media through other means, both lawful and unlawful, in their absence. Our study suggests that a relatively simple and inexpensive intervention — adding a short notice to a digital product page that outlines consumer rights in straightforward language — is an effective means of significantly reducing consumers' material misperceptions.
Sales of digital media generate hundreds of billions in revenue, and some percentage of this revenue is based on deception. Presumably, if consumers knew of the limited bundle of rights they were acquiring, the market could drive down the price of digital media or generate competitive business models that offered a different set of rights. We thus turn to legal interventions, such as state false advertising law, the Lanham Act, and federal unfair and deceptive trade practice law as possible remedies for digital media deception. Because of impediments to suit, including arbitration clauses and basic economic disincentives for plaintiffs, we conclude that the Federal Trade Commission (FTC) could help align business practices with consumer perceptions. The FTC's deep expertise in consumer disclosures, along with a series of investigations into companies that interfered with consumers' use of media through digital rights management makes the agency a good fit for deceptions that result when we "buy now."
Keywords
buy now,
digital rights management,
digital media,
amazon,
apple,
kindle,
itunes,
memory hole,
tethered devices,
bundle of rights,
contract non-readership,
first sale,
EULA,
survey research,
warning label,
short notice,
materiality
Citation Information
Aaron Perzanowski and Chris Jay Hoofnagle. "What We Buy When We "Buy Now""
University of Pennsylvania Law Review
(2017)
Available at: http://works.bepress.com/perzanowski/14/