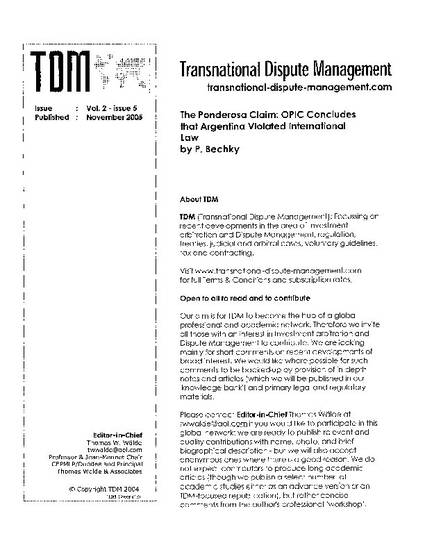 Popular Press
The Ponderosa Claim: OPIC Concludes that Argentina Violated International Law
Transnational Dispute Management (2005)
Abstract
In 2005, the U.S. Overseas Private Investment Corporation ("OPIC") determined that the Government of Argentina (the "GOA") violated international law in its response to the 2001 financial crisis, by abrogating key provisions of the license that it had granted to operate the major natural gas pipeline in southern Argentina. This case note situates the OPIC determination with the contemporaneous investor-state arbitral claims brought by private investors directly against the GOA pursuant to the terms of a number of Argentina's Bilateral Investment Treaties ("BITs"), and then offers several observations about the relationship between BITs and OPIC's political-risk-insurance ("PRI") in the modern scheme of international investment law.
Keywords
Overseas Private Investment Corporation,
OPIC,
political-risk-insurance,
PRI,
bilateral investment treaties,
BITs,
International Centre for Settlement of Investment Disputes,
ICSID,
Argentina,
Argentine financial crisis of 2001,
international investment law,
expropriation
Citation Information
Perry S Bechky. "The Ponderosa Claim: OPIC Concludes that Argentina Violated International Law"
Transnational Dispute Management
Vol. 2 Iss. 5 (2005)
Available at: http://works.bepress.com/perry_bechky/7/