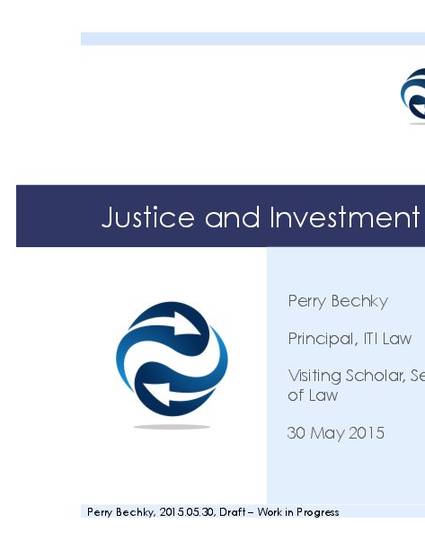 Presentation
Justice and Investment Arbitration
International Law Association (British Branch) (2015)
Abstract
Investment arbitration is rife with questions about justice. For example: Is it just to allow foreign investors to bring arbitral claims against states – especially when neither domestic investors nor persons other than investors aggrieved by state actions have any comparable access to arbitration? Do investment tribunals do justice between the parties? Do investment tribunals do justice to nonparties and, especially, the public interest? Are the particular forms and procedures of investment arbitration just?
This talk argues that investment arbitration affords a valuable mechanism for access to justice in a world of often-imperfect national courts. Nevertheless, investment arbitration is open to criticism that it unjustly limits such access to justice. For example, in an influential op-ed condemning investment arbitration, Senator Elizabeth Warren repeatedly highlighted that the main users of such arbitration are "multinational corporations," once going so far as to say that access to investment arbitration is limited to "only international investors, which are, by and large, big corporations."
It is possible, however, to defeat the objection that investment arbitration unjustly exists only (or even largely) for the benefit of large, foreign corporations. In one recent article (Law and Development Review 2014, http://works.bepress.com/perry_bechky/5/), I argued that similarities between concerns central to investment and human rights cases warrant convergence between the two adjudicatory regimes, as suggested, for example, by the fact that the European Court of Human Rights hears property cases. In another recent article (Vanderbilt Journal of Transnational Law 2012, http://works.bepress.com/perry_bechky/1/), I criticized the so-called "Salini test" for jurisdiction on the ground that it unjustly limits access to investment arbitration by placing a special burden on smaller businesses.
This talk builds on my prior work by proposing a small claims facility for the International Centre for Settlement of Investment Disputes (ICSID). It describes how such a facility might work and why it furthers the cause of access to justice. Importantly, it also discusses how such a facility (like other small claims mechanisms) might create tensions with other justice-based concerns, such as due process for the parties and concern for the public impact of investment arbitration, and how to manage such concerns to find a healthy balance. This talk is timely because the Secretary-General of ICSID has said that she is working to propose a small claims mechanism.
I presented this talk on 30 May 2015 at the University of Essex at the annual meeting of the British Branch of the International Law Association. It is a work in progress and your comments are welcome. The Powerpoint slides accompanying the talk may be downloaded here.
Keywords
ICSID,
investor-state arbitration,
investment arbitration,
small business,
SME,
small claims
Publication Date
May 30, 2015
Citation Information
Perry S Bechky. "Justice and Investment Arbitration"
International Law Association (British Branch)
(2015)
Available at: http://works.bepress.com/perry_bechky/12/