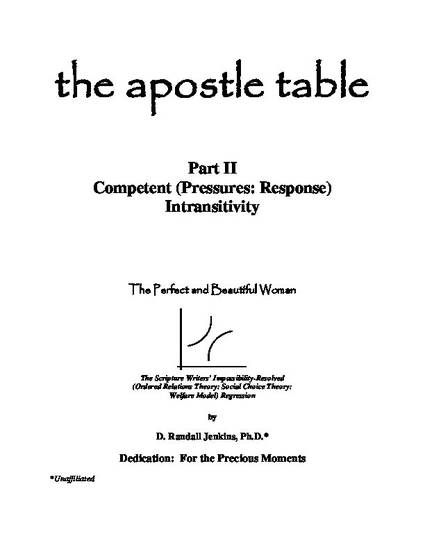 Unpublished Paper
The Apostle Table - Part II - Competent (Pressures: Response) Intransitivity
Religion (2007)
Abstract
The Apostle Table illustrates a New Testament encryption scheme revealed in the Book of Matthew. Specifically, the list of the twelve apostles in Matthew, 10:1-4, points to the Matthew, Chapters 8 and 9, disciple characterizations. The disciples metaphorically characterize the social choice theory aspect of the scripture writers' (ordered relations theory: social choice theory: welfare model) regression. The paper is written in two parts: I. The Exogenous Pressures; and, II. The Endogenous Response. Interestingly, the paper explains why the crucified Jesus could not get off the cross.
Keywords
social choice theory; ordered conflict resolution; ethics and economics; apostles; disciples; Jesus; Christ; John the Baptist
Publication Date
September, 2007
Citation Information
David Randall Jenkins. "The Apostle Table - Part II - Competent (Pressures: Response) Intransitivity"
Religion
(2007)
Available at: http://works.bepress.com/perfect_and_beautiful_woman/13/