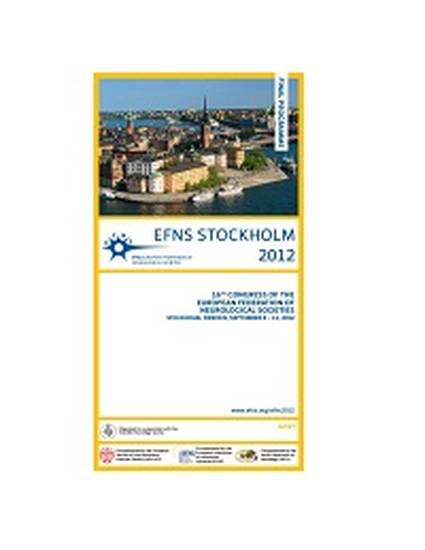 Presentation
Characterizing Sleep Disorders in Geriatric Populations
The 16th Congress of the European Federation of Neurological Societies (EFNS) (2012)
Abstract
Sleep disorders (SD) affect approximately one-third of the world population. The presence of SDs occurs at all ages although the presentation and subsequent consequences for an individual's health change in accordance with the natural aging process. Currently, evaluation of SD is inadequate across all age ranges as it is compromised by under reporting and by relying on self-report rather than professional sleep studies (i.e., nocturnal polysomnography (NP) and multiple sleep latency tests (MSLT)). Moreover, there is a paucity of data specific to older adults. We constructed a 111-item questionnaire to use in conjunction with NP, MSLT, the Epworth Sleepiness Scale (ESS), and medical chart reviews of people referred for evaluation of SDs. We categorized participants into two broad age groups: adult (age 19-65) and geriatric (66-90) to illuminate a characterization of the geriatric population. Data analysis from 682 people who were diagnosed with SD was compared for two groups: Adults (n=541mean age 46.22; 295 male; 246 female) and Geriatric (n=141; mean age 71.59; 83 male; 58 female) revealed a striking pattern of differences between the two groups. For example, the geriatric group had significantly greater prevalence of diagnoses of periodic limb movement, poor sleep efficiency, hypersomnolence, and restless leg syndrome, and nocturnal hypoxemia. Analysis also indicated numerous mental and physical health differences - many of which were unexpected based upon existing literature. This investigation provides a characterization of SD to enhance treatment approaches for geriatric populations rather than relying on assumptions of a general adult SD model.
Publication Date
September 9, 2012
Citation Information
Pennie S. Seibert, J. Valerio, Y. Rafla, F. Grimsley, et al.. "Characterizing Sleep Disorders in Geriatric Populations"
The 16th Congress of the European Federation of Neurological Societies (EFNS)
(2012)
Available at: http://works.bepress.com/pennie_seibert/26/