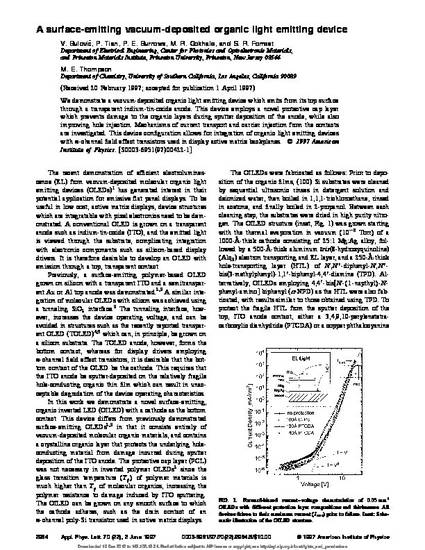 Article
A surface-emitting vacuum-deposited organic light emitting device
Applied Physics Letters (1997)
Abstract
We demonstrate a vacuum-deposited organic light emitting device which emits from its top surface through a transparent indium-tin-oxide anode. This device employs a novel protective cap layer which prevents damage to the organic layers during sputter deposition of the anode, while also improving hole injection. Mechanisms of current transport and carrier injection from the contacts are investigated. This device configuration allows for integration of organic light emitting devices with n-channel field effect transistors used in display active matrix backplanes.
Publication Date
June 2, 1997
Citation Information
V. Bulovic, Peifang Tian, P. E. Burrows, M. R. Gokhale, et al.. "A surface-emitting vacuum-deposited organic light emitting device"
Applied Physics Letters
Vol. 70 Iss. 22 (1997)
Available at: http://works.bepress.com/peifang_tian/2/