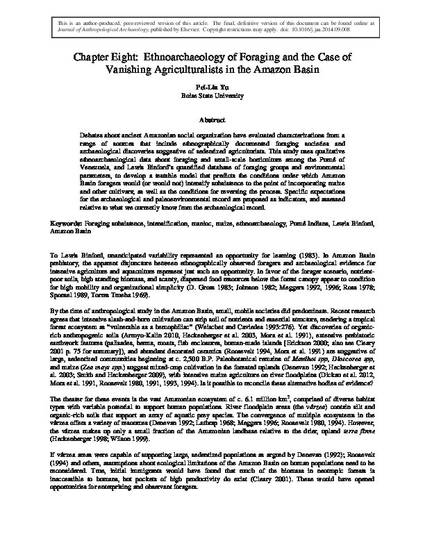 Article
Chapter Eight: Ethnoarchaeology of Foraging and the Case of Vanishing Agriculturalists in the Amazon Basin
Journal of Anthropological Archaeology
Publication Date
6-1-2015
Abstract
Debates about ancient Amazonian social organization have evaluated characterizations from a range of sources that include ethnographically documented foraging societies and archaeological discoveries suggestive of sedentized agriculturists. This study uses qualitative ethnoarchaeological data about foraging and small-scale horticulture among the Pumé of Venezuela, and Lewis Binford's quantified database of foraging groups and environmental parameters, to develop a testable model that predicts the conditions under which Amazon Basin foragers would (or would not) intensify subsistence to the point of incorporating maize and other cultivars; as well as the conditions for reversing the process. Specific expectations for the archaeological and paleoenvironmental record are proposed as indicators, and assessed relative to what we currently know from the archaeological record.
Copyright Statement
This is the author's version of a work that was accepted for publication in Journal of Anthropological Archaeology. Changes resulting from the publishing process, such as peer review, editing, corrections, structural formatting, and other quality control mechanisms may not be reflected in this document. Changes may have been made to this work since it was submitted for publication. A definitive version was subsequently published in Journal of Anthropological Archaeology, vol. 38, pp. 59-66, June 2015. doi: 10.1016/j.jaa.2014.09.008
Citation Information
Yu, Pei-Lin. (2015). "Chapter Eight: Ethnoarchaeology of Foraging and the Case of Vanishing Agriculturalists in the Amazon Basin".
Journal of Anthropological Archaeology, 38
, 59-66.
http://dx.doi.org/10.1016/j.jaa.2014.09.008