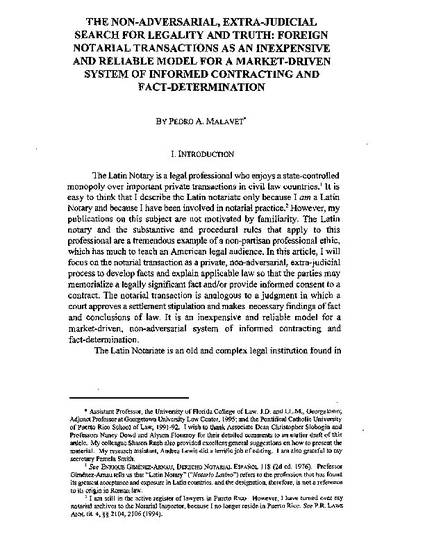 Article
The Non-Adversarial, Extra-Judicial Search For Legality And Truth: Foreign Notarial Transactions As An Inexpensive And Reliable Model For A Market-Driven System Of Informed Contracting And Fact-Determination
16 Wisc. Int'l L. J. (1997)
Abstract
Notarial transactions are specialized contracts, which in most of the world are written and certified by a legal professional known as a notary, who obviously is not the U.S. notary public. These, in effect, lawyers, practice a liberal profession so endowed of the public trust that they are expressly made alternatives to judicial proceedings. Hence, the notarial form is an extra-judicial certification of legality and truth, often comparable to our court judgments. This system guarantees honesty and legality while avoiding or resolving disputes, at a very low cost, when compared to American law practice and certainly when compared to litigation.
Keywords
Comparative Law,
Notarial Law,
Notaries,
International Property Transactions
Publication Date
Winter 1997
Citation Information
Pedro A. Malavet. "The Non-Adversarial, Extra-Judicial Search For Legality And Truth: Foreign Notarial Transactions As An Inexpensive And Reliable Model For A Market-Driven System Of Informed Contracting And Fact-Determination"
16 Wisc. Int'l L. J.
Vol. 16 Iss. 1 (1997)
Available at: http://works.bepress.com/pedro_malavet/3/