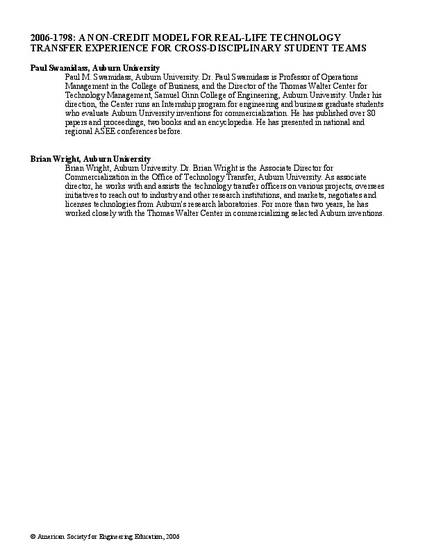 Presentation
A NON-CREDIT MODEL FOR REAL-LIFE TECHNOLOGY TRANSFER EXPERIENCE FOR CROSS-DISCIPLINARY STUDENT TEAMS
Annual Conference of ASEE 2006 (2006)
Abstract
This paper addresses several major issues of interest to ASEE's Entrepreneurship Division. It covers (1) university technology transfer; (2) introducing technology IP protocol management to students; and (3) a model of working relationship with university technology transfer officers for the mutual benefit of university technology transfer and the training of university graduates with real-life technology transfer problems. Student reported benefits are included.
Keywords
University technology student,
Training graduate students on technology commercialization
Publication Date
June, 2006
Citation Information
Paul Swamidass and Brian Wright. "A NON-CREDIT MODEL FOR REAL-LIFE TECHNOLOGY TRANSFER EXPERIENCE FOR CROSS-DISCIPLINARY STUDENT TEAMS"
Annual Conference of ASEE 2006
(2006)
Available at: http://works.bepress.com/paulswamidass/16/