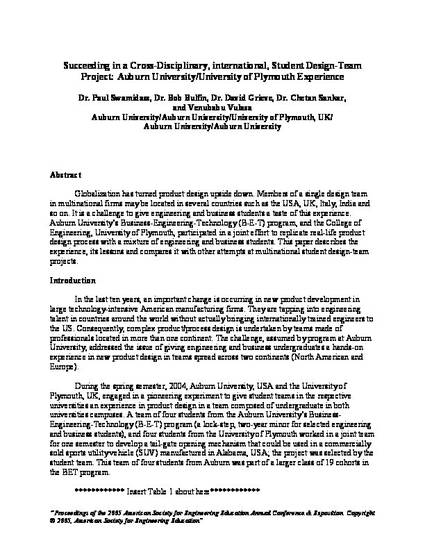 Presentation
Succeeding in a Cross-Disciplinary, international, Student Design-Team Project: Auburn University/University of Plymouth Experience
Proceedings of the 2005 American Society for Engineering Education Annual Conference.& Exposition (2005)
Abstract
Globalization has turned product design upside down. Members of a single design team in multinational firms may be located in several countries such as the USA, UK, Italy, India and so on. It is a challenge to give engineering and business students a taste of this experience. Auburn University's Business-Engineering-Technology (B-E-T) program, and the College of Engineering, University of Plymouth, participated in a joint effort to replicate real-life product design process with a mixture of engineering and business students. This paper describes the experience, its lessons and compares it with other attempts at multinational student design-team projects.
Citation Information
Paul Swamidass, Bob Bulfin, David Grieve, Chetan Sankar, et al.. "Succeeding in a Cross-Disciplinary, international, Student Design-Team Project: Auburn University/University of Plymouth Experience"
Proceedings of the 2005 American Society for Engineering Education Annual Conference.& Exposition
(2005)
Available at: http://works.bepress.com/paulswamidass/15/