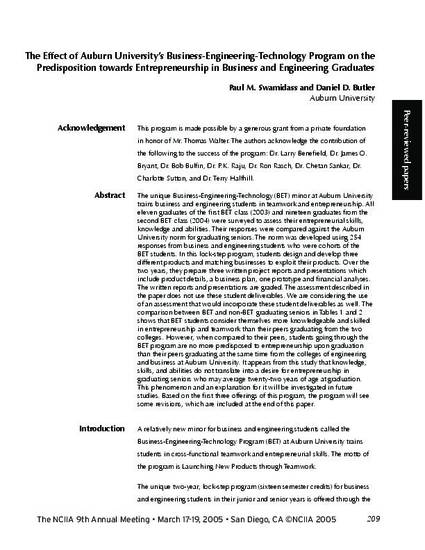 Presentation
The Effect of Auburn University's Business-Engineering-Technology Program on the Predisposition towards Entrepreneurship in Business and Engineering Graduates
NCIIA 9th Annual Meeting (2005)
Abstract
The unique Business-Engineering-Technology (BET) minor at Auburn University trains business and engineering students in teamwork and entrepreneurship. All eleven graduates of the first BET class (2003) and nineteen graduates from the second BET class (2004) were surveyed to assess their entrepreneurial skills, knowledge and abilities. Their responses were compared against the Auburn University norm for graduating seniors. The norm was developed using 254 responses from business and engineering students who were cohorts of the BET students. In this lock-step program, students design and develop three different products and matching businesses to exploit their products. Over the two years, they prepare three written project reports and presentations which include product details, a business plan, one prototype and financial analyses. The written reports and presentations are graded. The assessment described in the paper does not use these student deliverables. We are considering the use of an assessment that would incorporate these student deliverables as well. The comparison between BET and non-BET graduating seniors in Tables 1 and 2 shows that BET students consider themselves more knowledgeable and skilled in entrepreneurship and teamwork than their peers graduating from the two colleges. However, when compared to their peers, students going through the BET program are no more predisposed to entrepreneurship upon graduation than their peers graduating at the same time from the colleges of engineering and business at Auburn University. It appears from this study that knowledge, skills, and abilities do not translate into a desire for entrepreneurship in graduating seniors who may average twenty-two years of age at graduation. This phenomenon and an explanation for it will be investigated in future studies. Based on the first three offerings of this program, the program will see some revisions, which are included at the end of this paper.
Keywords
Unique program for business and engineering students; Entrepreneurship education,
Teamwork training,
Business plan preparation
Publication Date
March, 2005
Citation Information
Paul Swamidass and Daniel Butler. "The Effect of Auburn University's Business-Engineering-Technology Program on the Predisposition towards Entrepreneurship in Business and Engineering Graduates"
NCIIA 9th Annual Meeting
(2005)
Available at: http://works.bepress.com/paulswamidass/14/