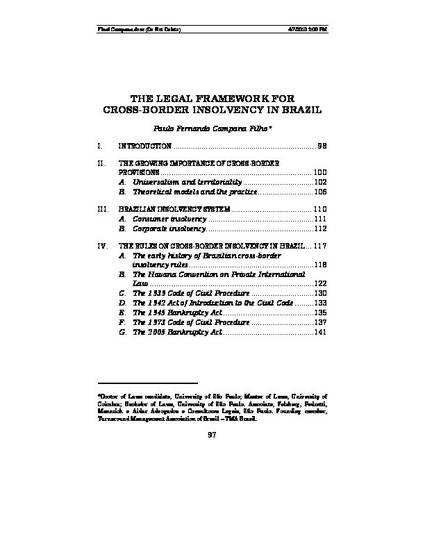 Article
The Legal Framework for Cross-Border Insolvency in Brazil
Houston Journal of International Law (2010)
Abstract
The article outlines Brazilian cross-border insolvency system. After briefly explaining the development of cross-border insolvency theory (particularly the academic models of universalism and territoriality and their derivates) and the landscape of insolvency law in Brazil (especially after the extensive 2005 reform), the article explores the rules adopted by the country on the matter (and which were enacted over the years), as well as court decisions and opinions of scholars, and concludes that the legal framework is rather inadequate and that, in the absence of clear rules, the country adopts territoriality. The article also summarizes two of the biggest insolvency cases in Brazil after the reform and their transnational implications to show that a limited degree of cross-border cooperation has been achieved. The article argues that, despite the collaboration reached on a case-to-case basis, reform is required in order to provide Brazil with the features of a modern cross-border insolvency system.
Keywords
cross-border insolvency; Brazil; bankruptcy; reorganization
Publication Date
Fall 2010
Citation Information
Paulo Fernando Campana Filho. "The Legal Framework for Cross-Border Insolvency in Brazil"
Houston Journal of International Law
Vol. 32 Iss. 1 (2010)
Available at: http://works.bepress.com/paulo_campana/1/