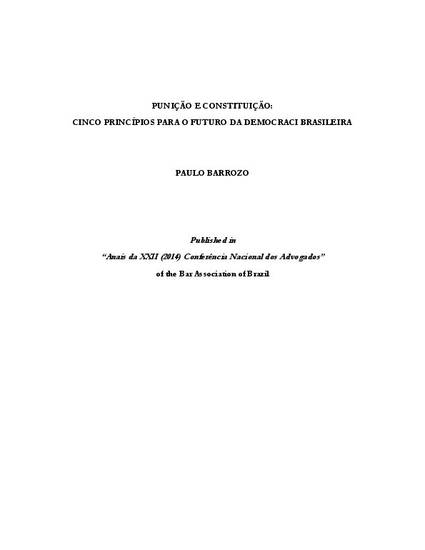 Article
Punição e Constituição: Cinco Princípios Para o Futuro da Democracia Brasileira (Punishment and the Constitution: Five Principles for the Future of Brazilian Democracy)
Anais da XXII Conferência Nacional dos Advogados Ordem dos Advogados do Brasil (2014)
Abstract
Portuguese Abstract: Publicado nos Anais da XXII Conferência da Ordem dos Advogados do Brasil realizada em 2014, este ensaio elabora cinco princípios para orientar a reforma do sistema penal brasileiro visando traze-lo ao centro da arquitetura constitucional de um país comprometido com os valores do auto-governo democrático e dos direitos individuais. English Abstract: Published in the annals of the of the Brazilian Bar Association XXII annual conference in 2014, this essay offers five principles to guide reform of the Brazilian criminal justice system in order to bring it to the center of the constitutional framework of a country committed to the values of democratic self-government and individual rights. Note: Downloadable document is in Portuguese.
Publication Date
June 29, 2014
Citation Information
Paulo Barrozo. "Punição e Constituição: Cinco Princípios Para o Futuro da Democracia Brasileira (Punishment and the Constitution: Five Principles for the Future of Brazilian Democracy)"
Anais da XXII Conferência Nacional dos Advogados Ordem dos Advogados do Brasil
Vol. 2014 (2014)
Available at: http://works.bepress.com/paulo_barrozo/33/