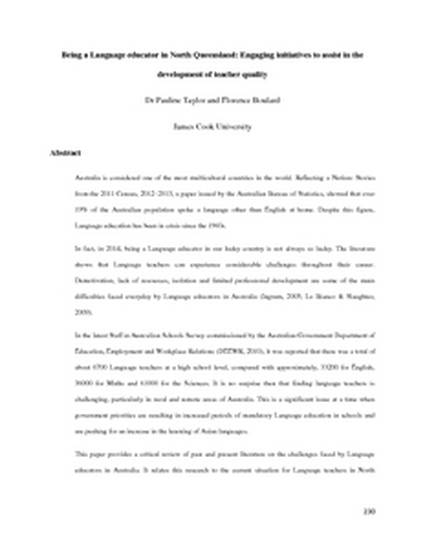 Presentation
Being a language educator in North Queensland: engaging initiatives to assist in the development of teacher quality
Australian Teacher Education Association (2014)
Abstract
Australia is considered one of the most multicultural countries in the world. Reflecting a Nation: Stories from the 2011 Census, 2012–2013, a paper issued by the Australian Bureau of Statistics, showed that over 19% of the Australian population spoke a language other than English at home. Despite this figure, Language education has been in crisis since the 1960s.
In fact, in 2014, being a Language educator in our lucky country is not always so lucky. The literature shows that Language teachers can experience considerable challenges throughout their career. Demotivation, lack of resources, isolation and limited professional development are some of the main difficulties faced everyday by Language educators in Australia (Ingram, 2005; Lo Bianco & Slaughter, 2009).
In the latest Staff in Australian Schools Survey commissioned by the Australian Government Department of Education, Employment and Workplace Relations (DEEWR, 2010), it was reported that there was a total of about 6700 Language teachers at a high school level, compared with approximately, 33200 for English, 36000 for Maths and 61000 for the Sciences. It is no surprise then that finding language teachers is challenging, particularly in rural and remote areas of Australia. This is a significant issue at a time when government priorities are resulting in increased periods of mandatory Language education in schools and are pushing for an increase in the learning of Asian languages.
This paper provides a critical review of past and present literature on the challenges faced by Language educators in Australia. It relates this research to the current situation for Language teachers in North Queensland and presents a series of initiatives focussed on developing quality Language education in this region.
Keywords
Multicultural,
Language,
Education,
Teachers,
Professional development,
Remote,
Rural
Publication Date
July 6, 2014
Citation Information
Pauline T Taylor and Florence M Boulard. "Being a language educator in North Queensland: engaging initiatives to assist in the development of teacher quality"
Australian Teacher Education Association
(2014)
Available at: http://works.bepress.com/pauline-taylor-guy/11/