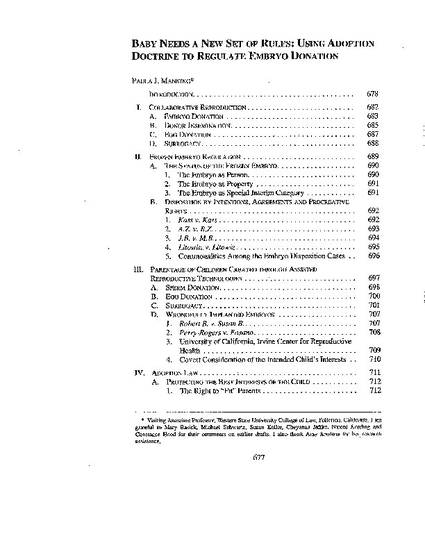 Article
Baby Needs A New Set of Rules: Using Adoption Doctrine to Regulate Embryo Donation
Georgetown Journal of Gender and Law (2004)
Abstract
The article argues that some children conceived via assisted reproductive technology are denied the protections and benefits provided to adopted children. The article describes collaborative reproduction techniques, reviews existing rules on the status of embryos, including parentage decisions in assisted reproduction cases, and compares those rules with adoption regulation. The article argues that an "intended child" approach should be used to regulate the treatment of embryos based on their intended use as children, thereby avoiding possible challenges to regulation based on the privacy rights expressed in Roe v. Wade and subsequent decisions, while providing children conceived via collaborative reproduction with the same rights and benefits provided to adoptees.
Keywords
embryo,
assisted reproduction,
ART,
collaborative reproduction,
adoption,
adoptee,
intended child
Citation Information
Paula J Manning. "Baby Needs A New Set of Rules: Using Adoption Doctrine to Regulate Embryo Donation"
Georgetown Journal of Gender and Law
Vol. V (2004)
Available at: http://works.bepress.com/paula_manning/3/