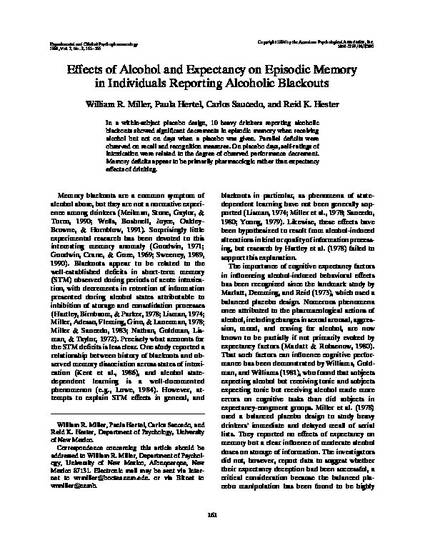 Article
Effects of Alcohol and Expectancy Upon Episodic Memory in Individuals Reporting Alcoholic Blackouts
Experimental and Clinical Pyshcopharmacology
Publication Date
1-1-1994
Abstract
In a within-subject placebo design, 10 heavy drinkers reporting alcoholic blackouts showed significant decrements in episodic memory when receiving alcohol but not on days when a placebo was given. Parallel deficits were observed on recall and recognition measures. On placebo days, self-ratings of intoxication were related to the degree of observed performance decrement. Memory deficits appear to be primarily pharmacologic rather than expectancy effects of drinking.
Document Object Identifier (DOI)
10.1037/1064-1297.2.2.161
Publisher
American Psychological Association
Citation Information
Miller, W.R., Hertel, P., Saucedo, C., & Hester, R.K. (1994). Effects of alcohol and expectancy upon episodic memory in individuals reporting alcoholic blackouts.
Experimental and Clinical Psychopharmacology, 2
(2), 161-166. doi: 10.1037/1064-1297.2.2.161