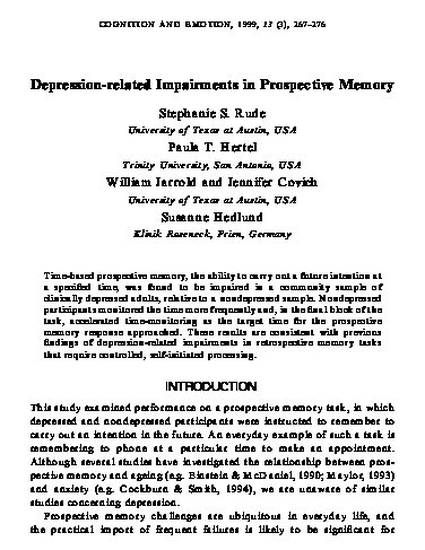 Article
Depression-Related Impairments in Prospective Memory
Cognition and Emotion
Publication Date
1-1-1999
Abstract
Time-based prospective memory, the ability to carry out a future intention at a specified time, was found to be impaired in a community sample of clinically depressed adults, relative to a nondepressed sample. Nondepressed participants monitored the time more frequently and, in the final block of the task, accelerated time-monitoring as the target time for the prospective memory response approached. These results are consistent with previous findings of depression-related impairments in retrospective memory tasks that require controlled, self-initiated processing.
Identifier
10.1080/026999399379276
Publisher
Psychology Press Ltd.
Citation Information
Rude, S.S., Hertel, P.T., Jarrold, W., Covich, J., & Hedlund, S. (1999). Depression-related impairments in prospective memory.
Cognition and Emotion, 13
(3), 267-276. doi: 10.1080/026999399379276