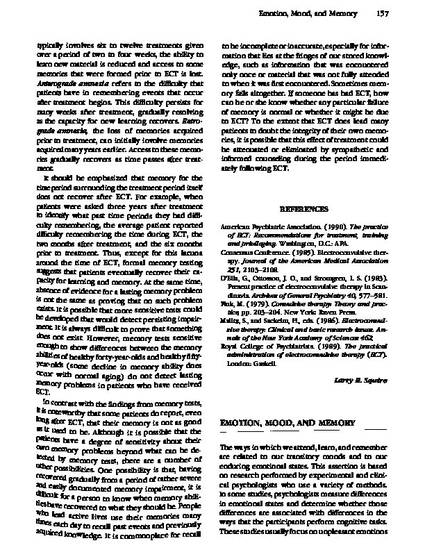 Contribution to Book
Emotion, Mood, and Memory
Encyclopedia of Learning and Memory
Document Type
Contribution to Book
Publication Date
1-1-1992
Abstract
The ways in which we attend, learn, and remember are related to our transitory moods and to our enduring emotional states. This assertion is based on research performed by experimental and clinical psychologists who use a variety of methods. In some studies, psychologists measure differences in emotional states and determine whether those differences are associated with differences in the ways that the participants perform cognitive tasks. These studies usually focus on unpleasant emotions and moods, such as depression and anxiety. In other studies, psychologists attempt to induce either unpleasant or pleasant moods in the participants (perhaps by having them listen to different types of music) and then examine how performance is affected by these manipulations. Both types of research have tried to answer three major questions about the interaction of mood and memory: (a) Do depressed and anxious moods hinder performance on cognitive tasks? (b) Do people remember events that are emotionally consistent with their moods better than other events? (c) Is performance improved if the same mood exists on the occasions of the original experience and the attempt to remember it? The ensuing summary suggests answers to the questions in the context of theoretical frameworks for understanding the relationships between mood and memory.
Citation Information
Hertel, P. (1992). Emotion, mood, and memory. In L. R. Squire (Ed.),
Encyclopedia of learning and memory
(pp. 157-161). Macmillan.