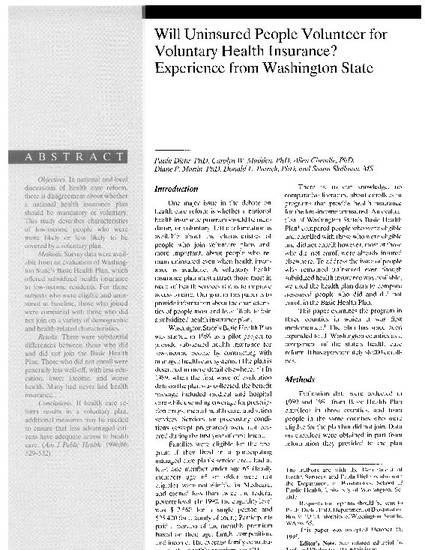 Article
Will unininsured people volunteer for voluntary health insurance? Experience from Washington State
American Journal of Public Health (1996)
Abstract
OBJECTIVES: In national and local discussions of health care reform, there is disagreement about whether a national health insurance plan should be mandatory or voluntary. This study describes characteristics of low- income people who were more likely or less likely to be covered by a voluntary plan. METHODS: Survey data were available from an evaluation of Washington State's Basic Health Plan, which offered subsidized health insurance to low-income residents. For those subjects who were eligible and uninsured at baseline, those who joined were compared with those who did not join on a variety of demographic and health-related characteristics. RESULTS: There were substantial differences between those who did and did not join the Basic Health Plan. Those who did not enroll were generally less well-off, with less education, lower income, and worse health. Many had never had health insurance. CONCLUSIONS: If health care reform results in a voluntary plan, additional measures may be needed to ensure that less advantaged citizens have adequate access to health care.
Keywords
subsidized health insurance,
uninsured,
universal health insurance
Publication Date
April, 1996
Citation Information
Paula Diehr. "Will unininsured people volunteer for voluntary health insurance? Experience from Washington State"
American Journal of Public Health
Vol. 86 Iss. 4 (1996)
Available at: http://works.bepress.com/paula_diehr/53/