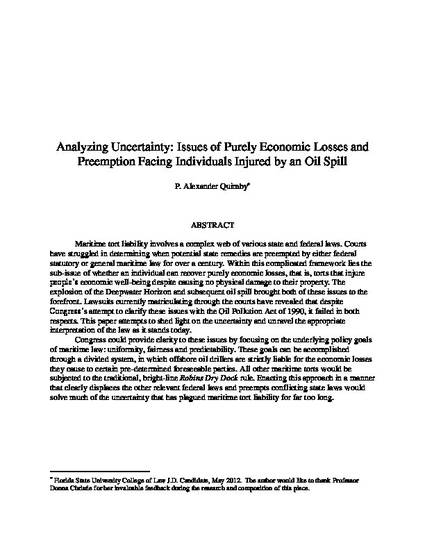 Unpublished Paper
Analyzing Uncertainty: Issues of Purely Economic Losses and Preemption Facing Individuals Injured by an Oil Spill
ExpressO (2011)
Abstract
Maritime tort liability involves a complex web of various state and federal laws. Courts have struggled in determining when potential state remedies are preempted by either federal statutory or general maritime law for over a century. Within this complicated framework lies the sub-issue of whether an individual can recover purely economic losses, that is, torts that injure people's economic well-being despite causing no physical damage to their property. The explosion of the Deepwater Horizon and subsequent oil spill brought both of these issues to the forefront. Lawsuits currently matriculating through the courts have revealed that despite Congress's attempt to clarify these issues with the Oil Pollution Act of 1990, it failed in both respects. This paper attempts to shed light on the uncertainty and unravel the appropriate interpretation of the law as it stands today.
Congress could provide clarity to these issues by focusing on the underlying policy goals of maritime law: uniformity, fairness and predictability. These goals can be accomplished through a divided system, in which offshore oil drillers are strictly liable for the economic losses they cause to certain pre-determined foreseeable parties. All other maritime torts would be subjected to the traditional, bright-line Robins Dry Dock rule. Enacting this approach in a manner that clearly displaces the other relevant federal laws and preempts conflicting state laws would solve much of the uncertainty that has plagued maritime tort liability for far too long.
Publication Date
March 2, 2011
Citation Information
Paul A Quimby. "Analyzing Uncertainty: Issues of Purely Economic Losses and Preemption Facing Individuals Injured by an Oil Spill"
ExpressO
(2011)
Available at: http://works.bepress.com/paul_quimby/1/