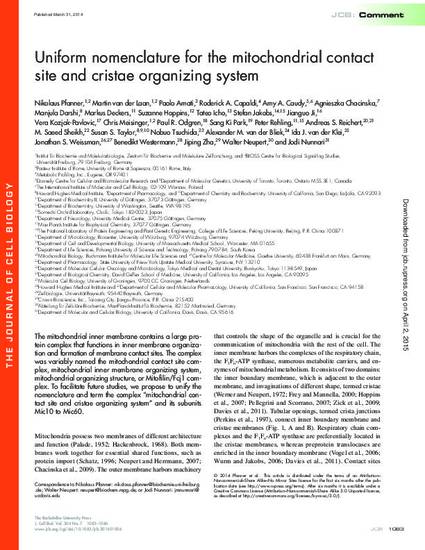 Article
Uniform nomenclature for the mitochondrial contact site and cristae organizing system
Cell and Developmental Biology Publications
UMMS Affiliation
Department of Cell and Developmental Biology
Publication Date
3-31-2014
Subjects
Animals; Humans; Mitochondrial Membranes; Mitochondrial Proteins; Models, Molecular; Multiprotein Complexes; Protein Subunits; Terminology as Topic
Abstract
The mitochondrial inner membrane contains a large protein complex that functions in inner membrane organization and formation of membrane contact sites. The complex was variably named the mitochondrial contact site complex, mitochondrial inner membrane organizing system, mitochondrial organizing structure, or Mitofilin/Fcj1 complex. To facilitate future studies, we propose to unify the nomenclature and term the complex "mitochondrial contact site and cristae organizing system" and its subunits Mic10 to Mic60.
Rights and Permissions
This article is distributed under the terms of an Attribution–Noncommercial–Share Alike–No Mirror Sites license for the first six months after the publication date (see http://www.rupress.org/terms). After six months it is available under a Creative Commons License (Attribution–Noncommercial–Share Alike 3.0 Unported license, as described at http://creativecommons.org/licenses/by-nc-sa/3.0/).
DOI of Published Version
10.1083/jcb.201401006
Creative Commons License
Creative Commons Attribution-Noncommercial-Share Alike 3.0
Citation Information
Nikolaus Pfanner, Paul R. Odgren, Walter Neupert and Jodi Nunnari. "Uniform nomenclature for the mitochondrial contact site and cristae organizing system" Vol. 204 Iss. 7 (2014) ISSN: 0021-9525 (Linking)
Available at: http://works.bepress.com/paul_odgren/30/