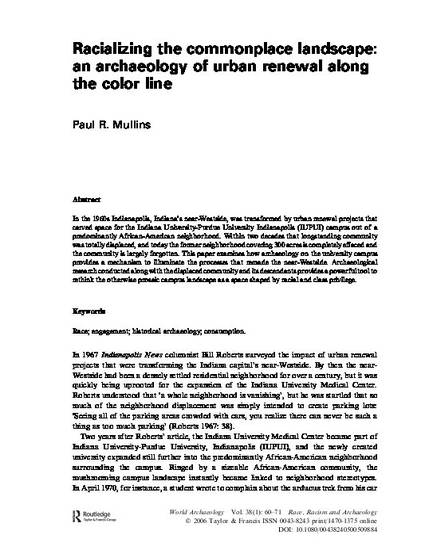 Article
Racializing the Commonplace Landscape: An Archaeology of Urban Renewal along the Color Line
World Archaeology (2006)
Abstract
In the 1960's Indianapolis, Indiana's near-Westside was transformed by urban renewal projects that carved space for the Indiana University-Purdue University Indianapolis (IUPUI) campus out of a predominately African-American neighborhood. Within two decades that longstanding community was totally displaced, and today the former neighborhood covering 300 acres is completely effaced and the community is largely forgotten. This paper examines how archaeology on the University campus provides a mechanism to illuminate the processes that remade the near-Westside. Archaeological research conducted along with the displaced community and its descendants provides a powerful tool to rethink the otherwise prosaic campus landscape as a space shaped by racial and class privilege.
Citation Information
Paul Mullins. "Racializing the Commonplace Landscape: An Archaeology of Urban Renewal along the Color Line"
World Archaeology
(2006)
Available at: http://works.bepress.com/paul_mullins/5/