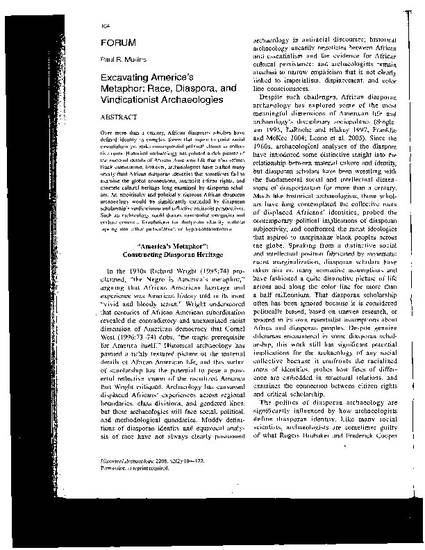 Article
Excavating America's Metaphor: Race, Diaspora, and Vindicationist Archaeologies
Historical Archaeology (2008)
Abstract
Over more than a century African diasporan scholars have defined identity in complex forms that aspire to resist racial essentialism yet stake consequential political claims to collective roots. Historical archaeology has painted a rich picture of the material details of African American life that also refutes black essentialism, but archaeologists have crafted many utterly fluid African diasporan identities that sometimes fail to examine the global connections, anti-racist citizen rights, and concrete cultural heritage long examined by diasporan scholars. An empirically and politically rigorous African diasporan archaeology would be significantly extended by diasporan scholarship's vindicationist and reflective anti-racist perspectives. Such an archaeology could disrupt essentialist categories and outline concrete foundations for diasporan identity without lapsing into either particularism or hyper-constructivism.
Keywords
race,
historical archaeology
Citation Information
Paul Mullins. "Excavating America's Metaphor: Race, Diaspora, and Vindicationist Archaeologies"
Historical Archaeology
(2008)
Available at: http://works.bepress.com/paul_mullins/4/