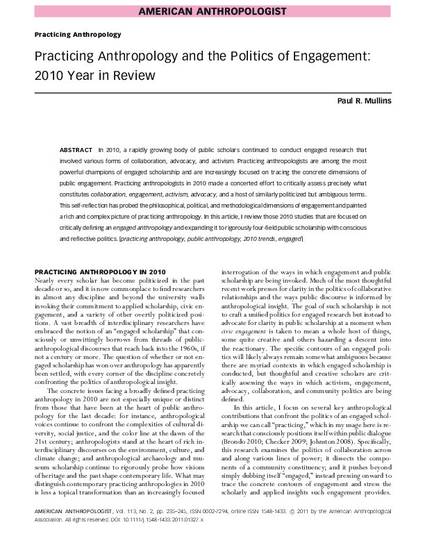 Article
Practicing Anthropology and the Politics of Engagement: 2010 Year in Review
American Anthropologist (2011)
Abstract
In 2010, a rapidly growing body of public scholars continued to conduct engaged research that involved various forms of collaboration, advocacy, and activism. Practicing anthropologists are among the most powerful champions of engaged scholarship and are increasingly focused on tracing the concrete dimensions of public engagement. Practicing anthropologists in 2010 made a concerted effort to critically assess precisely what constitutes collaboration, engagement, activism, advocacy, and a host of similarly politicized but ambiguous terms. This self-reflection has probed the philosophical, political, and methodological dimensions of engagement and painted a rich and complex picture of practicing anthropology. In this article, I review those 2010 studies that are focused on critically defining an engaged anthropology and expanding it to rigorously four-field public scholarship with conscious and reflective politics.
Citation Information
Paul Mullins. "Practicing Anthropology and the Politics of Engagement: 2010 Year in Review"
American Anthropologist
(2011)
Available at: http://works.bepress.com/paul_mullins/2/