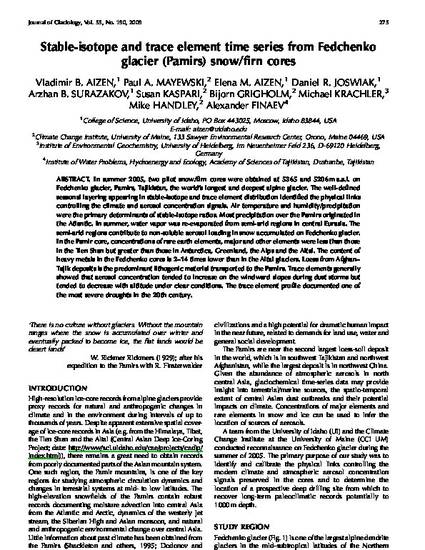 Article
Stable-Isotope and Trace Element Time Series from Fedchenko Glacier (Pamirs) Snow/Firn Cores
Journal of Glaciology
Rights and Access Note
This Item is protected by copyright and/or related rights. You are free to use this Item in any way that is permitted by the copyright and related rights legislation that applies to your use. In addition, no permission is required from the rights-holder(s) for educational uses. For other uses, you need to obtain permission from the rights-holder(s).
Publication Date
1-1-2009
Abstract/ Summary
In summer 2005, two pilot snow/firn cores were obtained at 5365 and 5206 m a.s.l. on Fedchenko glacier, Pamirs, Tajikistan, the world's longest and deepest alpine glacier. The well-defined seasonal layering appearing in stable-isotope and trace element distribution identified the physical links controlling the climate and aerosol concentration signals. Air temperature and humidity/precipitation were the primary determinants of stable-isotope ratios. Most precipitation over the Pamirs originated in the Atlantic. In summer, water vapor was re-evaporated from semi-arid regions in central Eurasia. The semi-arid regions contribute to non-soluble aerosol loading in snow accumulated on Fedchenko glacier. In the Pamir core, concentrations of rare earth elements, major and other elements were less than those in the Tien Shan but greater than those in Antarctica, Greenland, the Alps and the Altai. The content of heavy metals in the Fedchenko cores is 2-14 times lower than in the Altai glaciers. Loess from Afghan-Tajik deposits is the predominant lithogenic material transported to the Pamirs. Trace elements generally showed that aerosol concentration tended to increase on the windward slopes during dust storms but tended to decrease with altitude under clear conditions. The trace element profile documented one of the most severe droughts in the 20th century.
Citation/Publisher Attribution
Aizen, VB, Mayewski, PA, Aizen, EM, Joswiak, DR, Surazakov, AB, Kaspari, S, Grigholm, B, et al., 2009, Stable-Isotope and Trace Element Time Series from Fedchenko Glacier (Pamirs) Snow/Firn Cores: Journal of Glaciology, v. 55, p. 275-291. Available on publisher's site at:
http://www.ingentaconnect.com/content/igsoc/jog/2009/00000055/00000190/art00008
DOI
10.3189/002214309788608787
Version
publisher's version of the published document
Citation Information
Vladimir B. Aizen, Paul Andrew Mayewski, Elena M. Aizen, Daniel R. Joswiak, et al.. "Stable-Isotope and Trace Element Time Series from Fedchenko Glacier (Pamirs) Snow/Firn Cores"
Journal of Glaciology
Vol. 55 Iss. 190 (2009) p. 275 - 291
Available at: http://works.bepress.com/paul_mayewski/25/