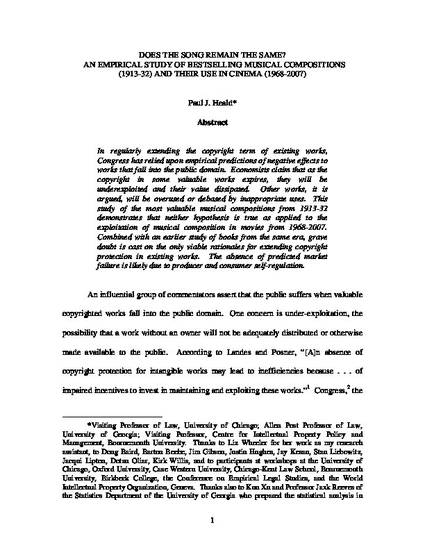 Unpublished Paper
DOES THE SONG REMAIN THE SAME? AN EMPIRICAL STUDY OF BESTSELLING MUISCAL COMPOSITIONS (1913-32) AND THEIR USE IN CINEMA (1968-2008)
ExpressO (2009)
Abstract
In regularly extending the copyright term of existing works, Congress has relied upon predictions by economists that bad things happen to works that fall into the public domain. Economists claim that as the copyright in some valuable works expires, they will be underexploited and their value dissipated. Other works, it is argued, will be overused or debased by inappropriate uses. This study of the most valuable musical compositions from 1913-32 demonstrates that neither hypothesis is true applied to the exploitation of musical composition in movies from 1968-2007. Combined with an earlier study on books from the same era, grave doubt is cast on the only viable rationales for extending copyright protection in existing works. The absence of predicted market failure is likely due to producer and consumer self-regulation.
Keywords
copyright,
term extension,
congestion,
under-exploitation,
over-exploitation,
empirical,
music,
cinema
Publication Date
February 23, 2009
Citation Information
paul j heald. "DOES THE SONG REMAIN THE SAME? AN EMPIRICAL STUDY OF BESTSELLING MUISCAL COMPOSITIONS (1913-32) AND THEIR USE IN CINEMA (1968-2008)"
ExpressO
(2009)
Available at: http://works.bepress.com/paul_heald/3/