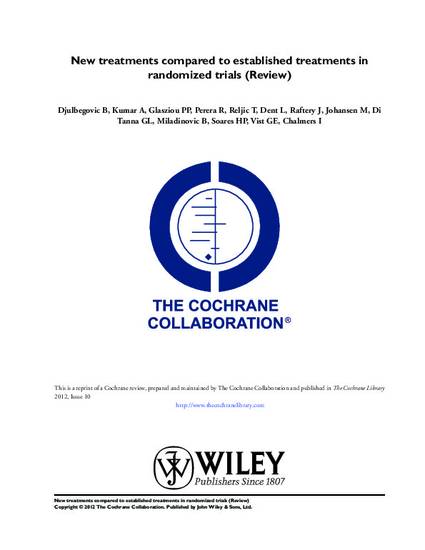 Article
New treatments compared to established treatments in randomized trials
Cochrane Database of Systematic Reviews
Date of this Version
1-1-2012
Document Type
Journal Article
Abstract
BACKGROUND: The proportion of proposed new treatments that are 'successful' is of ethical, scientific, and public importance. We investigated how often new, experimental treatments evaluated in randomized controlled trials (RCTs) are superior to established treatments. OBJECTIVES: Our main question was: "On average how often are new treatments more effective, equally effective or less effective than established treatments?" Additionally, we wanted to explain the observed results, i.e. whether the observed distribution of outcomes is consistent with the 'uncertainty requirement' for enrollment in RCTs. We also investigated the effect of choice of comparator (active versus no treatment/placebo) on the observed results.
Citation Information
Benjamin Djulbegovic, Ambuj Kumar, Paul Glasziou, Rafael Perera, et al.. "New treatments compared to established treatments in randomized trials"
Cochrane Database of Systematic Reviews
(2012) ISSN: 1469-493X
Available at: http://works.bepress.com/paul_glasziou/127/