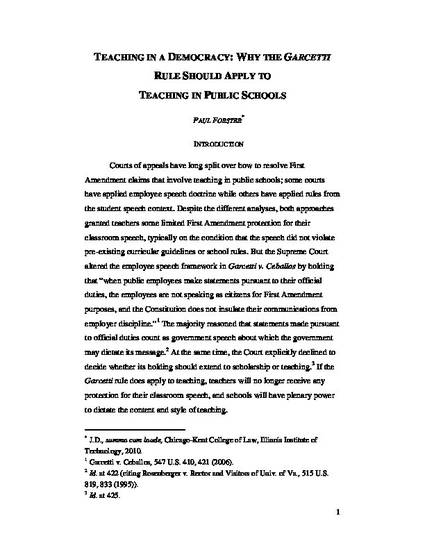 Unpublished Paper
Teaching in a Democracy: Why the Garcetti Rule Should Apply to Teaching in Public Schools
ExpressO (2010)
Abstract
This article examines an important yet unsettled First Amendment issue—whether the rule of Garcetti v. Ceballos should extend to teaching in public schools. In Garcetti, the Supreme Court held that when public employees make statements pursuant to their official duties, they are not speaking as citizens for First Amendment purposes, and the Constitution does not insulate their communications from employer discipline. Yet the Court expressly declined to decide whether this principle should extend to "scholarship or teaching," leaving lower courts to decide the issue for now. Despite the large number of publicly employed teachers and professors, lower courts have yet to reach any consensus, and many have yet to fully address the issue. This article examines a slightly narrower issue, confining itself to teaching in public elementary and secondary schools, as opposed to universities. I advocate for extending the Garcetti holding to teaching in public schools, arguing from both doctrinal and theoretical grounds. Were the Garcetti rule not applied to public school teachers, it would represent an anomalous exception, for teaching more clearly constitutes government speech than many other forms of employee speech already excluded from protection by Garcetti. Extending Garcetti also makes sense from a theoretical standpoint, because self-government theory weighs in favor of vesting ultimate power over the classroom with democratically accountable school boards.
Keywords
First Amendment,
Garcetti
Publication Date
August 17, 2010
Citation Information
Paul Forster. "Teaching in a Democracy: Why the Garcetti Rule Should Apply to Teaching in Public Schools"
ExpressO
(2010)
Available at: http://works.bepress.com/paul_forster/1/