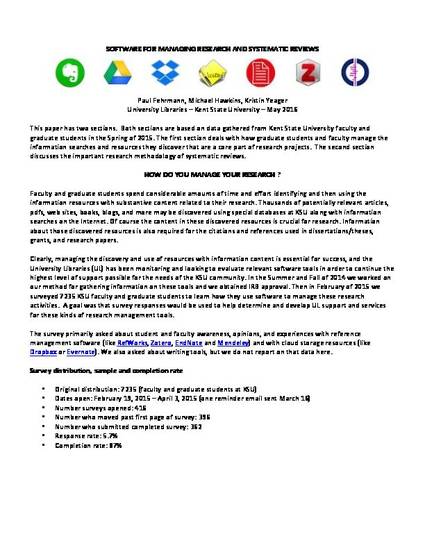 Unpublished Paper
Library Research Management Software Survey.pdf
(2016)
Abstract
Faculty and graduate students spend considerable amounts of time and
effort identifying and then using the information resources with
substantive content related to their research. Thousands of potentially
relevant articles, pdfs, web sites, books, blogs, and more may be
discovered using special databases at KSU along with information
searches on the Internet. Of course the content in these discovered
resources is crucial for research. Information about those discovered
resources is also required for the citations and references used in
dissertations/theses, grants, and research papers.
Clearly, managing the discovery and use of resources with information
content is essential for success, and the University Libraries (UL) has
been monitoring and looking to evaluate relevant software tools in order
to continue the highest level of support possible for the needs of the
KSU community. In the Summer and Fall of 2014 we worked on our method
for gathering information on these tools and we obtained IRB approval.
Then in February of 2015 we surveyed 7235 KSU faculty and graduate
students to learn how they use software to manage these research
activities. A goal was that survey responses would be used to help
determine and develop UL support and services for these kinds of
research management tools. The survey primarily asked about student and
faculty awareness, opinions, and experiences with reference management
software (like RefWorks, Zotero, EndNote and Mendeley) and with cloud
storage resources (like Dropbox or Evernote). We also asked about
writing tools, but we do not report on that data here.
Keywords
Software,
Library Research,
Literature Reviews,
Systematic Reviews
Publication Date
Spring May, 2016
Citation Information
Paul Fehrmann, Kristin Yeager and Michael Hawkins. "Library Research Management Software Survey.pdf" (2016)
Available at: http://works.bepress.com/paul_fehrmann/10/
Creative Commons License
This work is licensed under a Creative Commons CC_BY-NC-SA International License.